Get the free demo app on your smartphone
simple mounting
ready for use in just a few steps, thanks to a sophisticated mechanism
easy to use
with an ingenious workflow; whether in the studio, at rehersal, at home or en route
complete integration
The device can be used in every setup: your pedalboard, analog synthesizers and music studio
extensive system
proven technology is now extended with undreamed-of possibilities
accurate and reliable
Take it everywhere and it works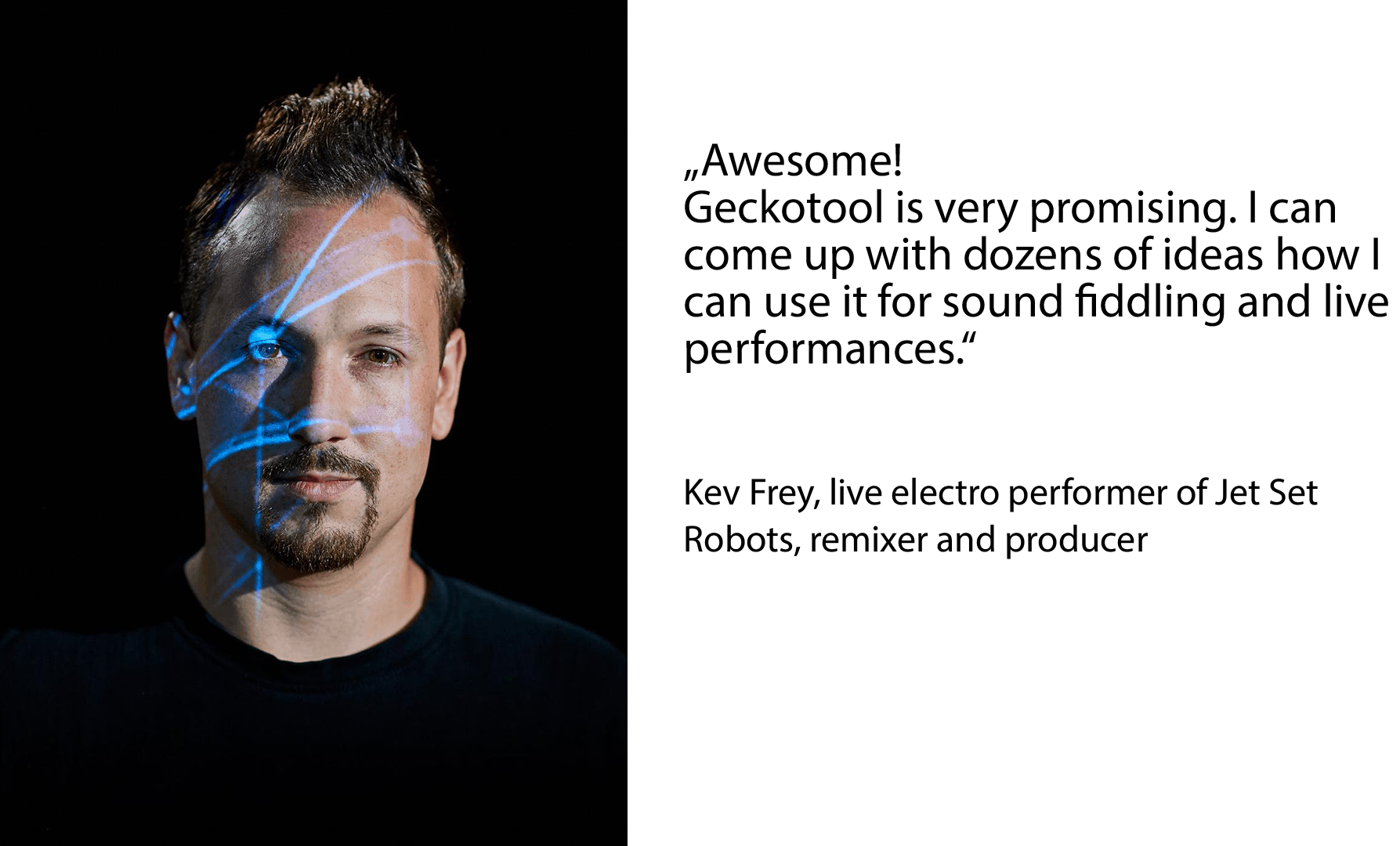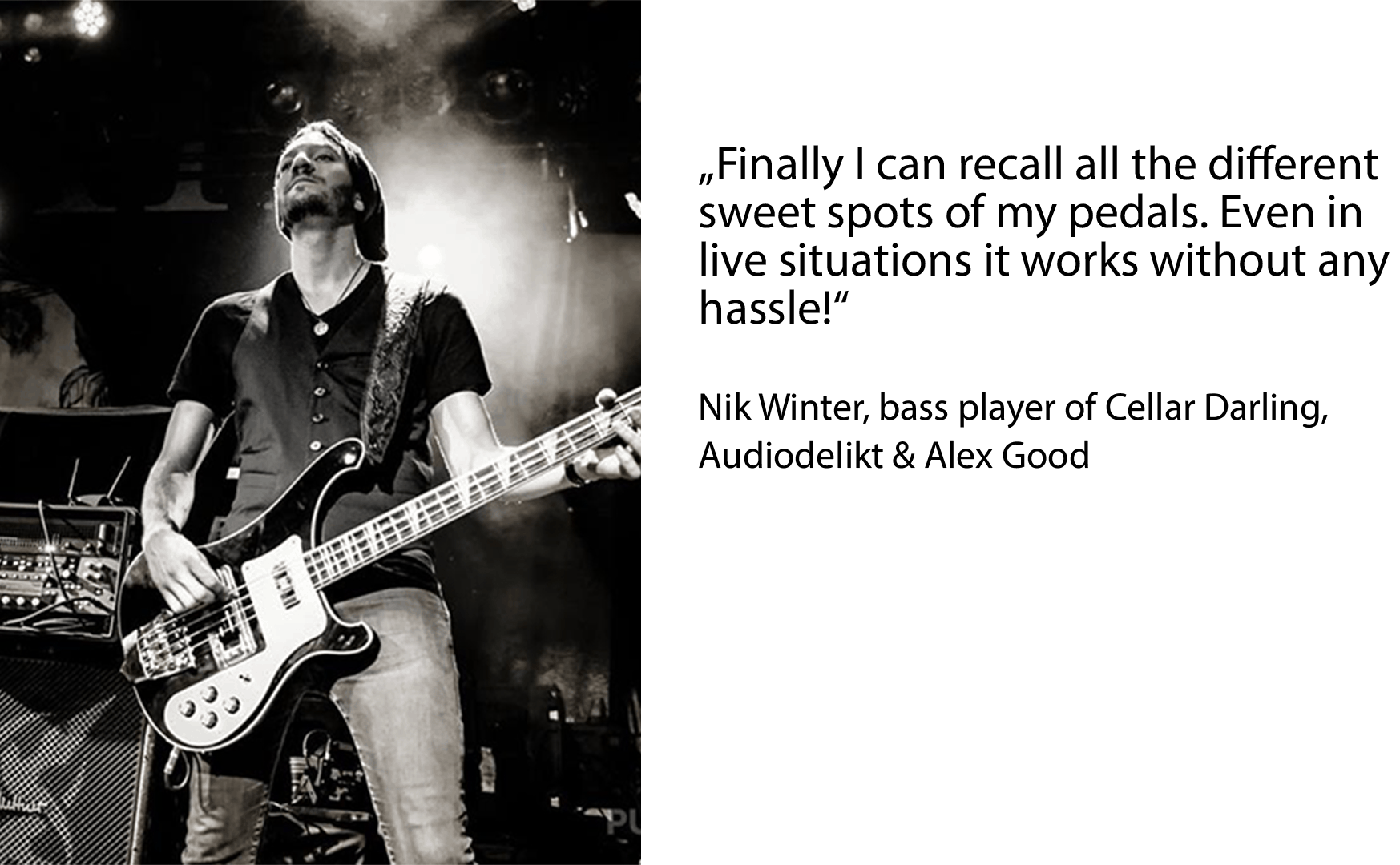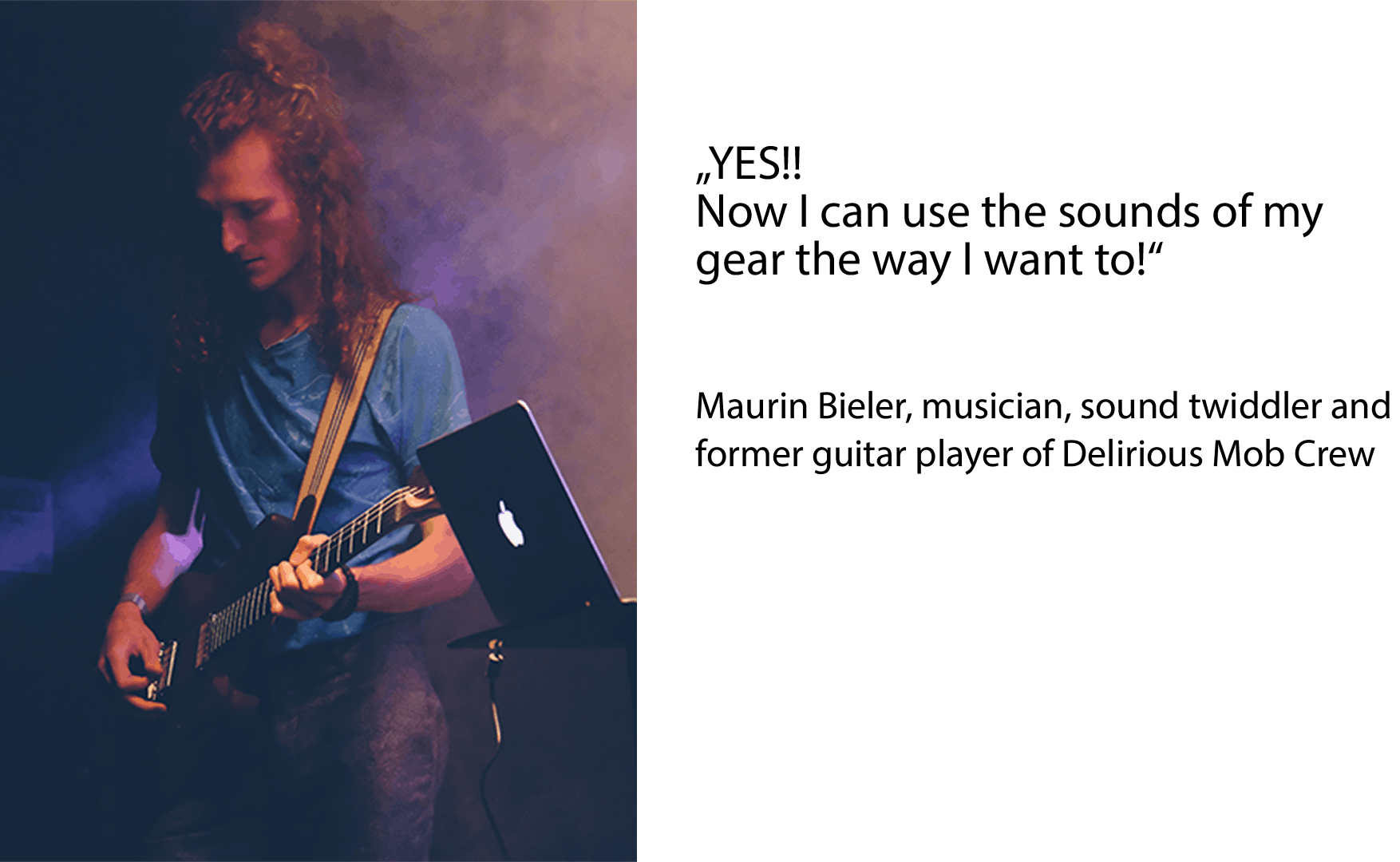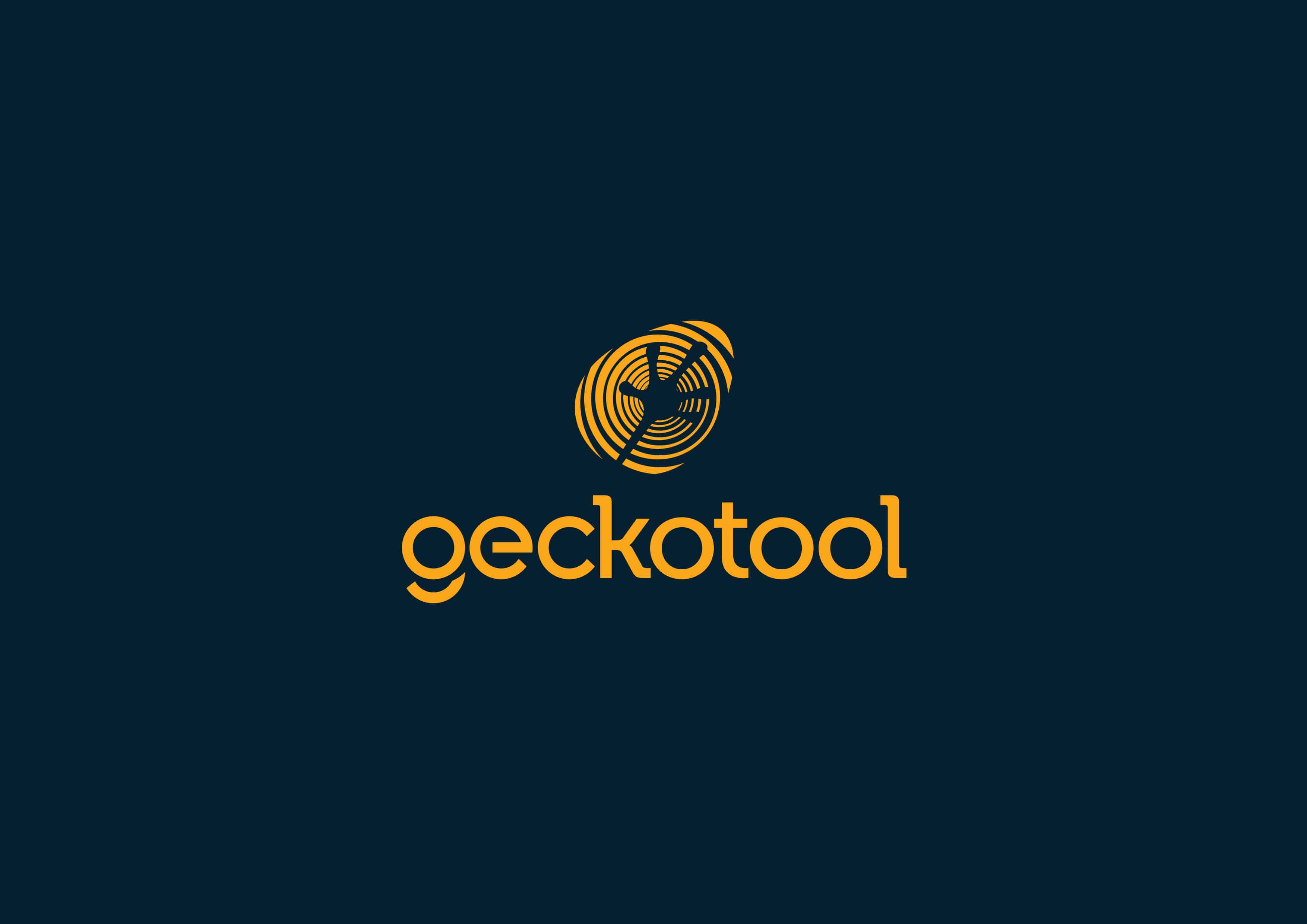 The idea
The idea arose in 2015, during the composing of a tune called "delailien". It's a mixture of spherical, strange chord progressions and melodies with constant interruptions of a self-oscillating delay (as at the beginning of the video). For that effect I used my two hands simultaneously to experiment with the delay- and feedback time. I noticed quickly that playing the guitar while operating the knobs just doesn't work. Wouldn't it be nice to change the 2 parameters with one foot? I couldn't find anything useful except to replace half of my arsenal of stomps. There had to be another way……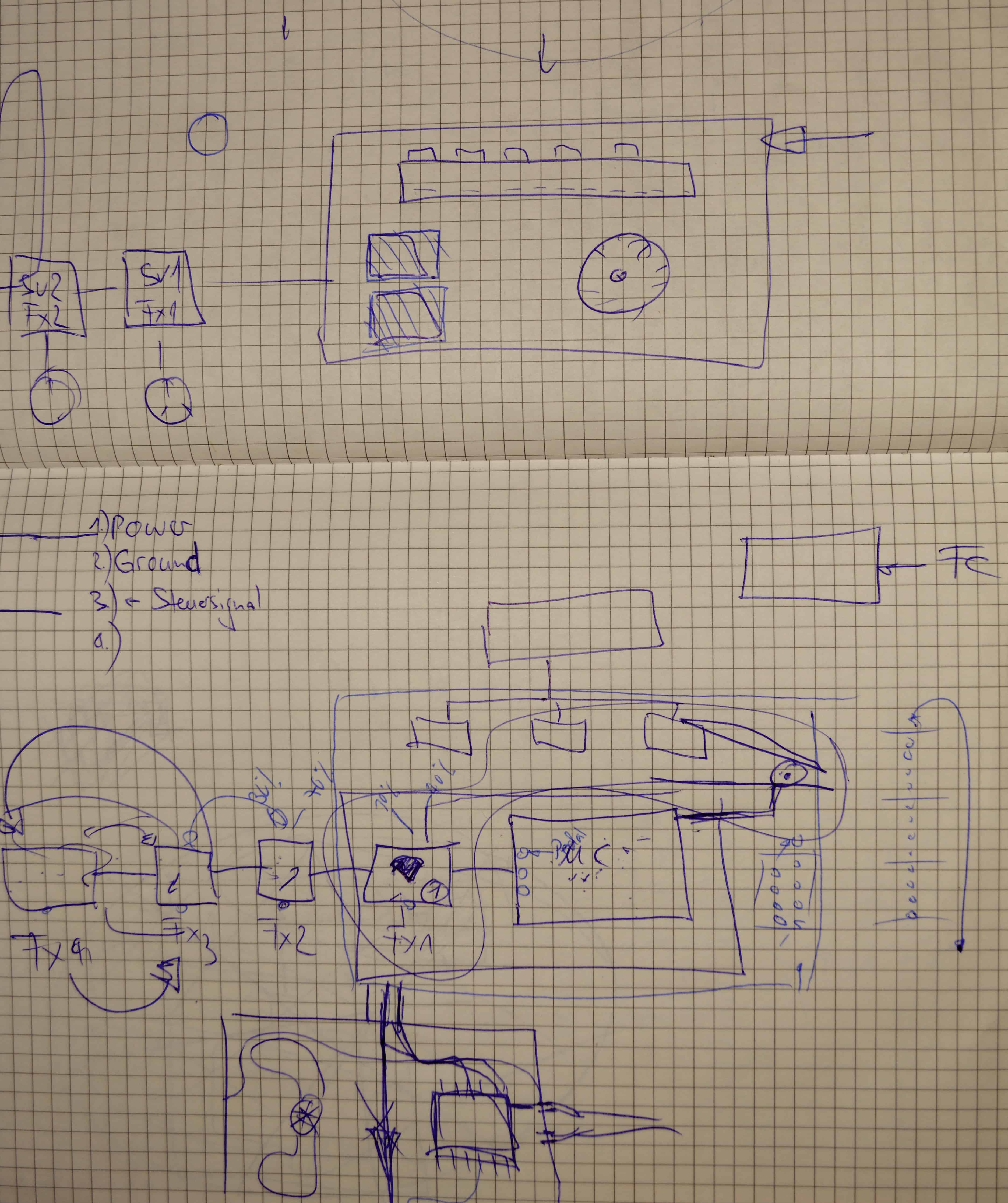 The Quest
Therefore, I wanted to build a device myself. The brainstorming showed even more possibilities: Store the angles of the potentiometers, expr.inputs for a button as well, determine of the range and direction of the knob, integration of DAWs and Midi. I talked to several musicians and I noticed that something like that could not only push the pedalboard sector but is also interesting for synth-enthusiasts and sound engineers. After a conversation with an electronic engineer I became aware: You cannot do this  by yourself, Thomas! With a clear goal in mind the long quest for suitable people in the field of electronics, software, mechanics, design and UX started. After two years of further development the team was complete and the first prototype on its way. Now, after another 2 years we are almost production-ready and the ongoing field tests are more than promising. JIPIII :-))) All that is missing now is your support, so we can start with the production of the first batch!!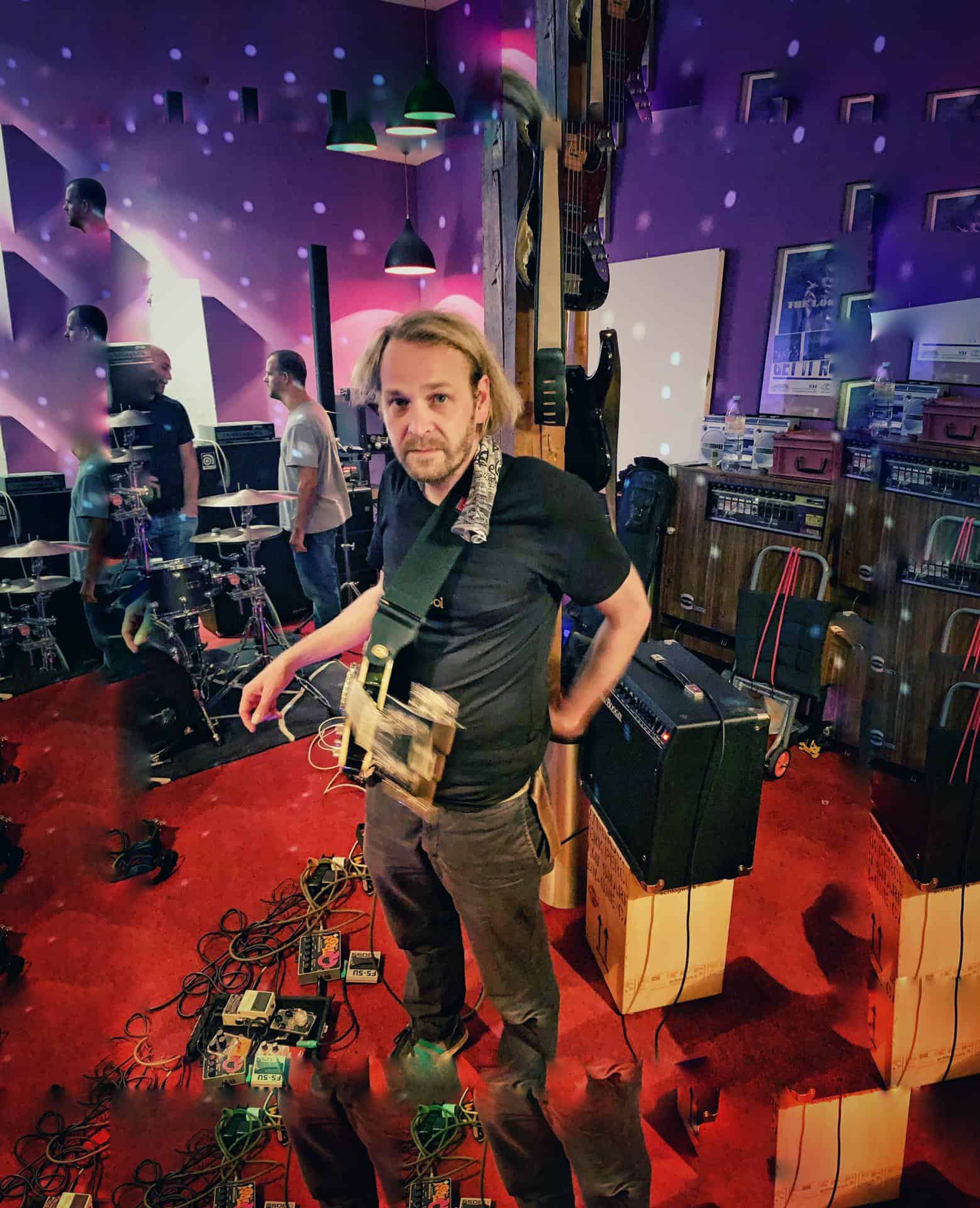 The Guy
Thomas Toengi, captain of the project
born in 1983, on the guitar since 1993
He studied jazzguitar and electronic music and played/plays in various funk, heavy metal and irishfolk groups, as well as freejazz and in musicals. His passion is interactive effect-routing. It gives him the chance, performing solo and live, to use every immaginable signal to control effects, loops and digital instruments. Let's use the machines to our advantage!
Danke gearnews.de für das coole review
Motoren statt Finger – Geckotool steuert eure Bodentreter
Geschätzte Lesezeit: 2 Minuten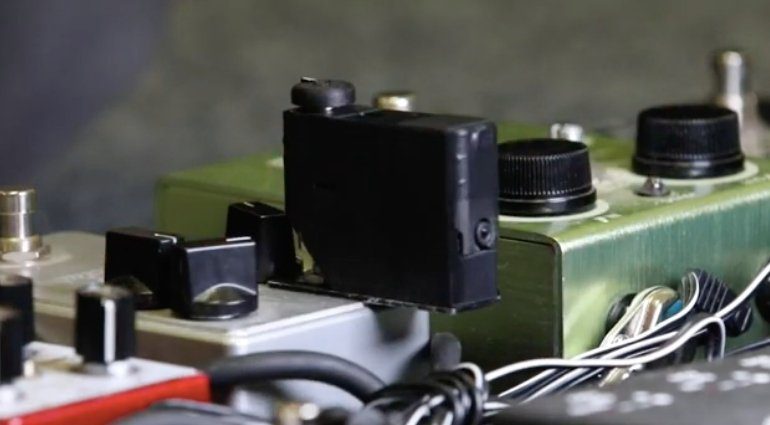 An alle Gitarristen, die ihre Pedaleinstellung während der Songs mit dem Fuß einstellen: Es gibt Abhilfe aus der Schweiz. Geckotool ist eine kleine Maschine, die eurer Poti fernsteuerbar macht. Und dafür müsst ihr euer Pedal nicht einmal modifizieren.
Geckotool
Die Idee ist so simpel wie genial: Geckotool ist ein ferngesteuerter Motor, der auf die Potiachse montiert wird. Dann könnt ihr über ein Expression-Pedal, Footswitch oder MIDI-Daten aus der DAW eure analogen Effekte fernsteuern – je nach Einstellung auch mehrere Parameter gleichzeitig. Mit einem 3-Band-EQ könnt ihr so eine Art Wahwah bauen……..
thank you synthtopia.com for the review
Geckotool Promises To Bring Robotic Control To Your Knob-Twiddling
Developer Thomas Toengi has introduced Geckotool – a new system that promises to bring robotic control to your analog knob-twiddling.
The system connects to the potentiometers of your analog gear and adds motorized control. This means that you can control your analog gear remotely, automate control changes and more.
Geckotool is expected to launch in about three weeks. See the product site for more info.
Bedankt voor het goede rapport gitarist.nl
Geckotool; automatiseer je draaiknoppen
Motorautomatisering voor je apparatuur
Merknieuws 25-10-2019 09:32
Software kun je eenvoudig automatiseren in je daw maar ook voor fysieke draaiknoppen is er nu een oplossing met Geckotool
Geckotool is een klein, op afstand bedienbaar motortje dat je op de as van een draaiknop kunt monteren. Met een volumepedaal, een switch of via midi kun je dan de knop laten draaien. Je kunt 9 Gecko units tegelijk aansluiten op een control unit (de Mothership) en de exacte werking bepalen via een app op je smart phone.
Met Geckotools kun je zo gitaarpedalen, versterkers, processors of hardware synthesizers automatiseren.
Verdere details of prijzen zijn nog niet bekend, maar Geckotools zou over 3 weken te bestellen moeten zijn.